Rationale for the programme
Project Learning for Young Adults (PLYA) was developed by the Slovenian Institute for Adult Education with the purpose of the holistic approach towards solving the problem of dropping out school system. It is carried out by seven Adult education centres, two Development Agencies and four private institutions. The main aim is to motivate young adults to continue abandoned education, finish formal education or (and) get a job. Program is a tailor made training for each participant. This means that individual needs of participants are acknowledged and activities are adjusted to their needs.
Our organization Adult education centre Radovljica has been running the program since year 2000. It has developed into highly professional programme which has integrated into local environment.
Target group
PLYA includes young adults from 15 to 25 years of age.
Participants have the status of unemployed persons and / or are not in education or if they are in education they face with problems that lead to dropout.
More specifically participants are determined by the following characteristics:
they find themselves in a unspecified intermediate social space without socially recognized status,
are socially excluded, this exclusion is associated with personal, behavioural, social and other problems,
are often without basic vocational or professional education, or the labour market is too saturated with certain occupations, therefore they remain the long-term unemployed,
they have never been employed or they have short-term work experience or are seeking their first job,
have lost their status of pupil or student, or their status defines special individual contract with school,
to achieve changes in the patterns of functioning in the social environment they need systematic, intensive and long-term incentives,
incentives are needed to strengthen healthy identity and the development of basic capabilities.
Participant's profile
Most young adults included in the program go through a difficult phase of adolescence. They face numerous problems and severe situations at home such as domestic violence, alcoholism, poverty, abandonment, abuses, divorced parents. Some of them lost their parents or the parents are not capable to give them proper support. Therefore a lot of them solve their distress in various unsuitable ways: abusing drugs, alcohol, self- abusive and suicidal behaviour. Others escape in virtual world of computer games. They have health issues, such as depression, schizophrenia, psychosis and also physical injuries or illnesses after accidents.
In educational system they often find themselves in a conflict situation with the teachers, they violate school rules and start skipping classes. In general, it is really hard to say what the main reason for dropping out of school is. Each participant has his own reasons.
 There is up to 24 participants in the group. The programme is for the participants completely on a voluntary basis and they can enter or exit the programme any time during the school year. They get a contract with the employment service, which covers their travel expenses and gives them a small fee for their cooperation. Another way to enter the programme is a special individual contract with the school, which means that they don't attend the classes at the school. They come to PLYA programme every day and finish school by passing exams in their original school. It is a kind of prevention before actually dropping out of school completely. But most of them attend adult education.
Work methods
The basic form of work in the program PUM is project work. It's most important characteristic is consideration of the interests and abilities of the participants which are also involved in the designing of ideas, work planning, doing projects and evaluation. Participants and mentors together shape the projects, activities, workshops, choose the topics of the project, learning resources, methods and procedures. As participants actively participate and decide on the course of the program, their motivation to participate increase and also motivation for learning and continuing education.
Our work is based on the basic concepts of Transactional Analysis:
People are as human beings OK regardless off inappropriate behavior. In program this is reflected so that the participants express their interests, desires, and behaviors in an environment where they feel safe and accepted.
The concept of development
We encourage development and progress in the participants. Projects are designed so that anyone within his power and capabilities contribute his share in project and therefore develop his potential.
During the program young people learn the concept of decision-making and consequences in a structured and controlled manner. We raise their awareness that the decisions they make are important in teamwork, have an impact on them and others in a group, on mentors and environment. We encourage them to make important life decisions and help them to take consequences.
Working in project is based on the agreement on the division of tasks and acceptance of responsibility. We encourage them to articulate their interests, desires, and at the same time take into account others and their agreements.
Concepts are realized through project activities. Young people acquire basic functional skills, experience and knowledge that enable them to be successful in further education or in their chosen profession. They get positive learning experiences, they can be more clearly aware of their professional aspirations and create employment strategy. Each participant has selected role in the project. Young people through various activities learn functional skills, communication skills, taking responsibility for their decisions and actions. They also build a positive self – esteem.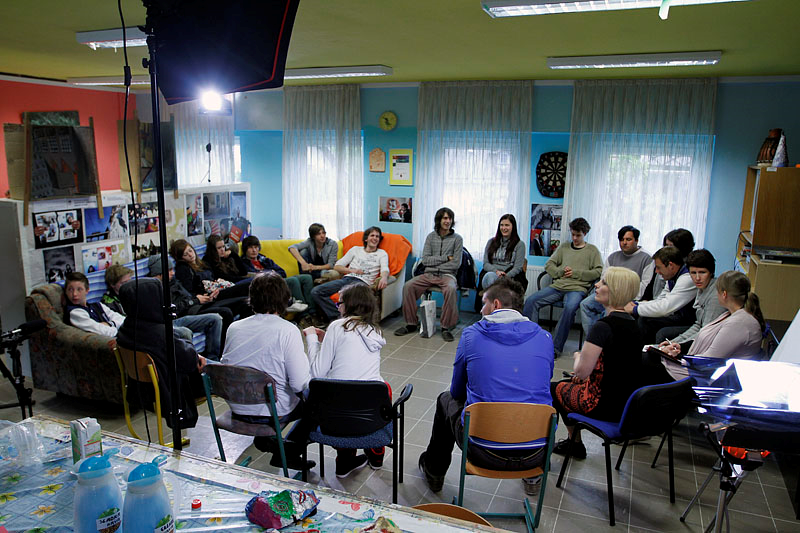 Role of mentors
Mentors have to be appropriate for this work and properly educated. Education level and mentor licence are only the beginning. They have to be able to do individual work (counselling, guidance), group work (prevention workshops, product work), organising everyday programme, administration. In our group we work according to the TA (transactional analysis) principles.
The role of mentor is based on an equal relationship towards the participant. This means that we treat them as adults; we respect them and except them as good human beings. This is the grounding to start solving the problems they have. We are using numerous tools to encourage participants to recognize their problems, to see different possibilities and that they start to believe in their own abilities.
Every human being is able to grow, to develop and taking responsibility for their decisions and actions.
Mentors have to have inner believe in the participants, they need to accept them as they are and they have to love them.
SOMETIMES IN CRISES ONLY HUMOR AND HUGS HELP.
Individual work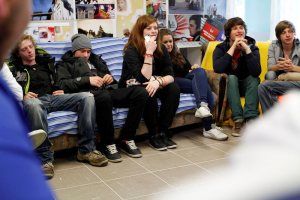 Projects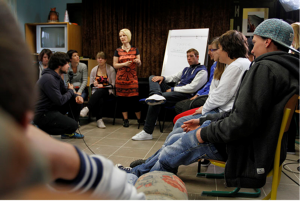 Activities of interest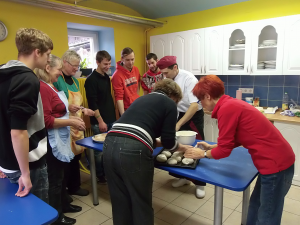 Production work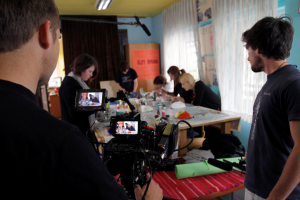 International projects
Since the year 2000, we have been actively participating in the Youth in action programme. We attended a lot of youth exchanges in Europe (Germany, Hungary, Poland, Holland, Norway) and also hosted groups from abroad. We also hosted three young people in EVS (European voluntary service), one boy from Holland and two girls from Poland and Ireland. This was a great experience for our youngsters, because they had to speak in English, they got to know young people from abroad, their habits etc. We also sent our youngsters on EVS.
These projects are an important part of PLYA, they offer young people to actively participate, they can get to know different cultures, informal and intercultural learning. They can expand their horizon and switch their environment. Consequently   they can see their own life from a different perspective.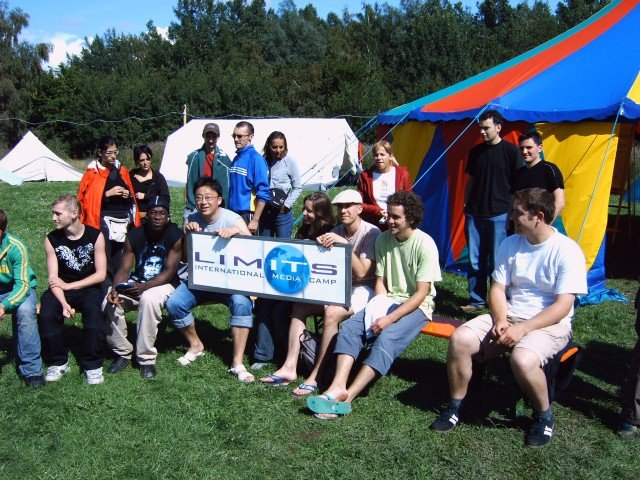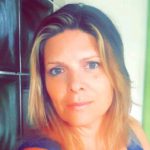 Written by: Mateja Rozman Amon, Adult Education Centre Radovljica, Slovenia